CATO
CATO brings both Dutch and international stakeholders together on research related to CCS. It builds on the legacy of the CATO1 and CATO2 research programs. CATO is an abbreviation of "CO2 Afvang, Transport en Opslag" (CO2 capture, transport and storage). The CATO program offers project developers in the space of CCS, CCU or CDR a place to display their results and to interact with other researchers and developers. In November 2014, the third phase of CATO started.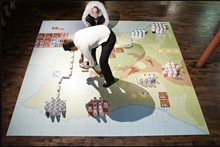 Play the CCS XXL game
Play the CCS XXL game now with colleagues or students. For more information contact us.
Keep involved!
We would like to involve the CATO community in keeping the website up to date. If you have interesting news/webinars etc. for the CATO website feel free to mail to info@co2-cato.org