Presentations CATO community gathering
On September 26th 2023 the 'CATO community gathering' took place at the Energy Cave in Rijswijk. With an attendance of ~120 participants, and a full agenda of high-quality presentations, workshops and a tour to the Rijswijk Centre for Sustainable Geo-energy, the CATO team looks back on a successful event.
In addition to old acquaintances from the CATO community, we were happy to see so many new faces.
It is clear that together, Dutch industry and R&D organizations are once again fully engaged in the development of carbon capture, transportation, use and storage technologies.
Go to the public versions of the presentations.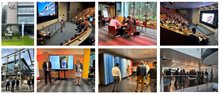 The CATO team would like thank the presenters again for their contribution and we look forward to hosting the next event, early next year!