Brigitte Jacobs the new CATO Program Director
Due to other activities, Jan Hopman has ended his role as CATO Program Director and transferred responsibilities to Brigitte Jacobs. We thank Jan Hopman for his many years of valuable contribution to the CATO program. We will surely miss his humorous final presentations. With Brigitte Jacobs we have found a valuable successor.
Brigitte Jacobs works as a Business Leader Energy Transition Industry with TNO. She holds a Master of Science in Chemical Engineering with a Post graduate degree in Business Economics. Prior to working with TNO, she has held both technical and commercial roles within a variety of large chemical multinationals (e.g. ExxonMobil, DuPont, DSM) in different places across the globe. At TNO, she supports different industry partners with the introduction of new technology developments that help them reduce their carbon footprint and meet their climate goals. She is motivated by challenges that stretch the comfort zone, believes in continuous improvement, is eager to learn and enjoys interacting with many cultures and nationalities.
As CATO Program Director Brigitte will accelerate the roll-out of CCS/CCU/CDR in the Netherlands by maintaining and expanding the (inter)national CATO Network. Brigitte is looking forward to getting to know the CATO community.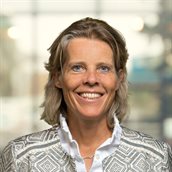 Brigitte Jacobs